Atlanta Installation Company for Bar Pool Tables
Are you in need of coin operated pool table installations or repairs at your place of business? Contact Absolute Billiard Services today for a free quote!
Commercial Pool Table Services in Atlanta
We are experienced in commercial pool table installations. Most tables you see in a restaurant or bar are going to be a typical coin operated pool table. Valley, Dynamo, Valley Dynamo, Valley Cougar, Diamond, Shelti, Apache, and Global are common coin operated table brand names. Coin operated tables, also commonly known as 'bar tables', need additional attention and care that a home pool table doesn't require. We often use a different grade of felt on bar tables to stand up to the wear and tear they will endure. The inside of a coin operated table contains a few mechanisms that can become jammed or dirty and keep the table from running smoothly. The most common problem is the cue ball keeps returning in the ball return box instead of where it should at the head of the table. There could possibly be something stuck on the magnet inside that is keeping it from returning correctly. Another common problem is the colored or numbered balls return to the ball box at the end of the table where players get free games, rather than returning behind the plexiglass door where they have to pay to get them out. Pool cue maintenance is a key factor in a successful coin operated bar table environment as well. This problems and many more can be easily remedied with one phone call to Absolute Billiard Services.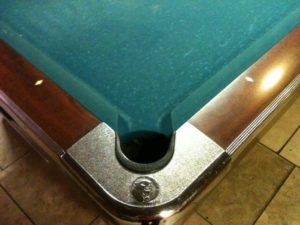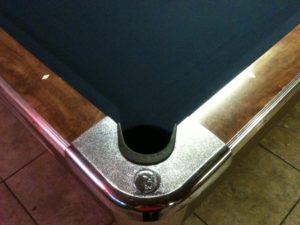 How do coin operated pool tables work?
After using a coin-operated table for the first time, you may be surprised that after you scratched, the cue ball alone would always return to play. How does this work?
By using a magnetic cue ball, a different weighted cue ball, or a different-sized cue balls, depending on the table.
For those of you not familiar with coin-operated pool tables, all the balls are held inside the table until the correct number of coins are inserted. After inserting your coins and pushing the lever into the machine, the balls roll out into an accessible ball box at the end of the table.  As each ball is hit into a pocket during game play, it rolls down a simple system of internal chutes that return it to a storage area on the side of the table where you can see the balls through a plexiglass window on the ball box door. The balls are then contained until the game is over and more money is inserted.
However, since it's common to scratch by sinking the cue ball, there has to be a system for returning just that one ball. Otherwise, the game would be over the first time anybody scratched.
Some tables use cue balls that are a different size from the colored/numbered balls. This system works fairly well, although some players allege that having a larger diameter cue ball throws off their shots and changes the dynamics of the game.
Magnetic cue ball return systems rely on a magnetic cue ball. The magnetic cue ball is repelled by another magnet inside the table's internal chutes. The repelling action of the magnets push the ball, sending the cue ball into a separate path that returns it to the player. This system works very well. Magnetic cue balls are regulation size and weight and unlikely to affect play.
The table plays just fine with the stains and maybe a small tear, why should I spend money to refelt it?
A refelt service on your coin ops can bring a lot more money to your pocket. People are much more likely to play on a clean table than on a damaged or dirty one. One visit from us can quickly put those dollars in your pocket.
We honestly can not count how many times a home player, who is purchasing their own table, has told us that they 'used to' spend all their extra time at a certain bar or pool hall playing away hours at a time on a coin op table. But after a while the tables weren't maintained properly and with time the tables became less and less desirable to the player. Maintenance is key when it comes to making money on a coin operated table.  Check out our before and after refelt pictures.
Ask yourself, which table would you rather play on?
To see the entire album and the process of refelting a coin operated bar table, click here to be linked to our Facebook page! Please be sure to 'like' us while your there!